As I've alluded a few times recently, the last couple of weeks have been pretty hectic in my neck of the woods; but I still had to make the time to participate in this month's #PrinceTwitterThread series on 1995's The Gold Experience. I know I remain, somewhat unfashionably, an '80s Prince guy, but The Gold Experience is one of my faves from the '90s and "Endorphinmachine" is an absolute banger. Check out the thread below, and be sure to also make your voice heard on the poll I posted pitting the raw original mix against the clunktastic album version. Also, stay tuned to @PrinceThread on Twitter; the series just got started, and is going all the way through the Record Store Day release of The Gold Experience on Saturday the 18th!
Good morning ladies and gentlemen, boys and motherfuckin' girls! My name is Zachary Hoskins and it's my pleasure to be part of this #PrinceTwitterThread series on one of my favorite O(+> albums, The Gold Experience! #TGE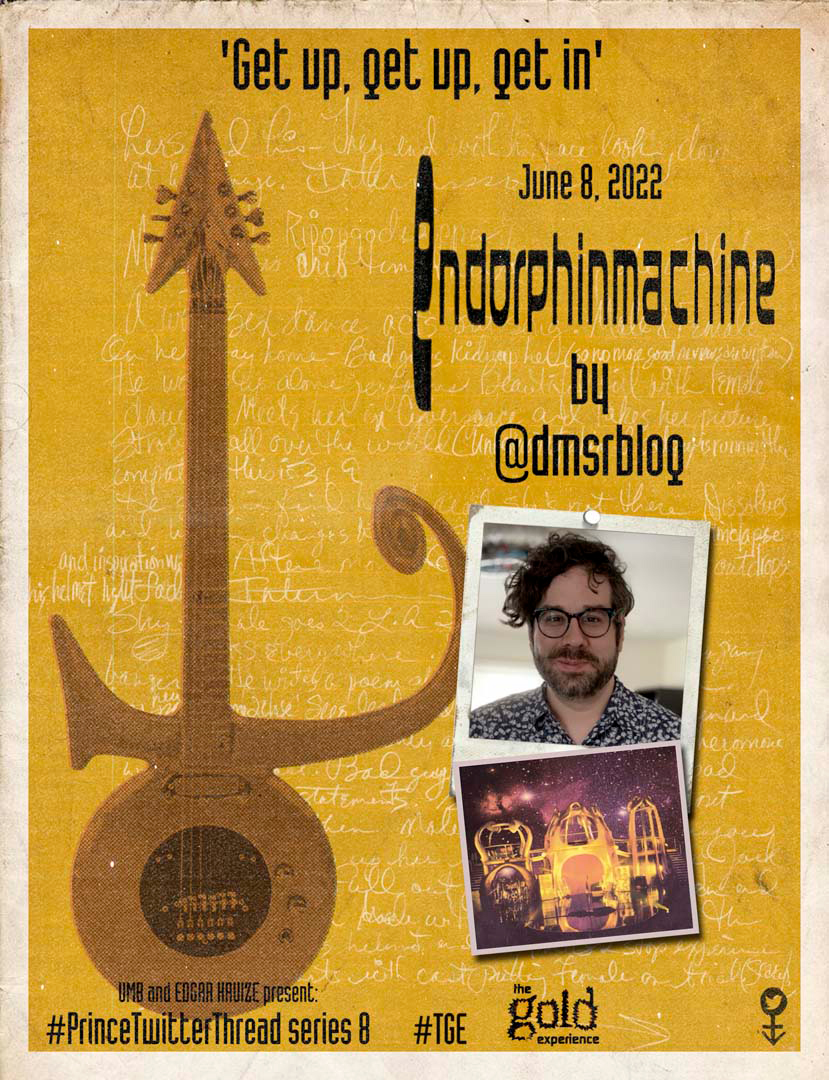 When I first got wind of this series of threads, I jumped at the chance to do "Endorphinmachine." Let me start by explaining why.
While Prince is unquestionably my favorite artist and he transcends genre, I'm still a dirty white boy from Southwest Michigan. My first musical love is good ol' red-blooded American rock and roll.
And just for the record, Prince shared some of those proclivities! Case in point: It's widely assumed that the name of his first band, Grand Central, was a tribute to Larry Graham's Graham Central Station… and I'm sure that was part of it.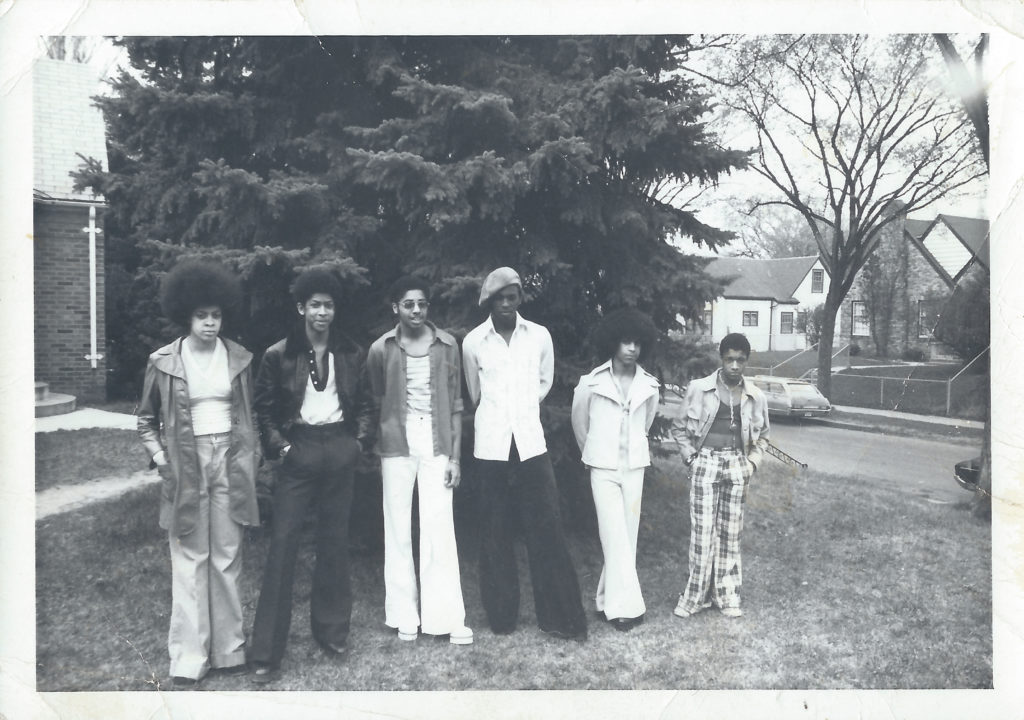 But it was also an homage to Flint, Michigan's own Grand Funk Railroad… yes, THAT Grand Funk Railroad.
In fact, if I could only choose one thing to accomplish in my life's work as a Prince scholar, it would be to spread the word that the famous @PaisleyPark "Influence Wall" prominently features Grand Funk, shirtless Mark Farner and all.
https://medium.com/@samjennings3000/the-story-behind-princes-influence-wall-e930c9cf5686
But I digress. The point is, my parallel love of Prince and lunkheaded hard rock also means that I can be hard to satisfy when Prince tries his hand at a pure rock song.
I've grown to love "I'm Yours" in a Foreigner kinda way. "Bambi," of course, shreds. But "Rock 'n' Roll is Alive!" disproves its own argument. The Chaos & Disorder LP is mostly just loud. 3rdeyegirl (at least in the studio) merits a shrug.
I say all this as a preamble because "Endorphinmachine" is that rare thing for me: a Prince rock song that actually, well, rocks.
So let's get into it. "Endorphinmachine" was one of the earlier tracks recorded for what became #TGE, dating from the same January 1, 1993 Paisley Park session as "Dolphin" (plus "Come" and "Dark" from sister album Come)
Like those other tracks, it features the stripped-down 1994-96 lineup of the NPG (pictured here challenging Charlie Murphy to a basketball game): Sonny T on bass, Michael B on drums, Tommy Barbarella and Mr. Hayes on keyboards, and of course O(+> on guitar.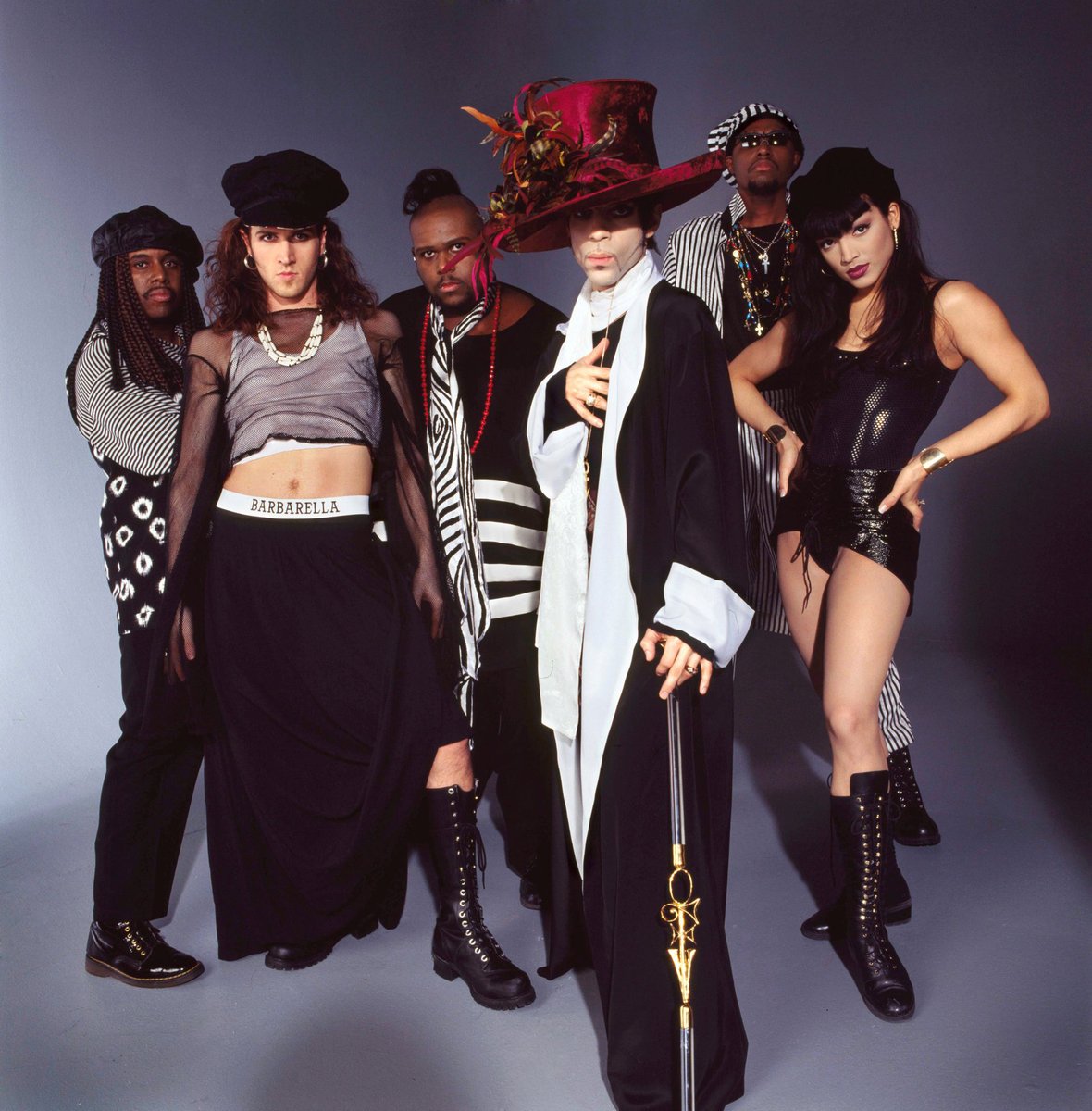 If there's one thing our notoriously contrarian fan community can agree on, it's that this band was TIGHT. And "Endorphinmachine" is no exception: It kicks in the door and doesn't let up until the (literally) screaming finale.
Of particular note is the fat, fuzzed-out riff, which ranks among the greatest in The Artist (Formerly) Known as Prince's storied career. It's glam rock via Britpop… sort of proto-Spacehog, at least to my ears. But better!
On the final configuration of #TGE, "Endorphinmachine" effortlessly carries the momentum established by "P(ussy) Control," which we heard about from @Henk_Liebeek yesterday… it's a perfect one-two punch.
Not everyone welcomed it with open arms, however. Because of #TGE's notoriously difficult birth (summarized in @EdgarKruize's intro thread), a lot of fans heard an early version of the song as many as two years before its official release.
You can hear that early version in this clip from O(+>'s 1993 stage show "Glam Slam Ulysses," an absolutely bonkers interpretive-dance reimagining of Homer's Odyssey starring Carmen Electra…
…and here, in this live-in-the-studio clip taped for Top of the Pops (but unaired) in February 1994 and later released on the Interactive CD-ROM…
…and here, in this live performance (once again featuring the Glam Slam Ulysses dancers) from the VH1 Honors award show in June 1994…
…Anyway, you get the idea. When "Endorphinmachine" finally came out, it sounded… different. The mix was slicker, O(+>'s guitar less in your face. And there was another subtle difference, something I can't quite put my finger on…
I've seen veteran fans bemoan the #TGE version of "Endorphinmachine" as "overproduced." But I have a confession to make: I think it's an improvement in almost every way. It's loud, brash, and tasteless; less Spacehog, more Great White. It fucking rules.
But whichever version you prefer, let's touch briefly on what the hell an Endorphinmachine is. Like many things in this phase of Prince's career, the concept was a tip of the hat to Roger Vadim's 1968 camp classic Barbarella, starring Jane Fonda.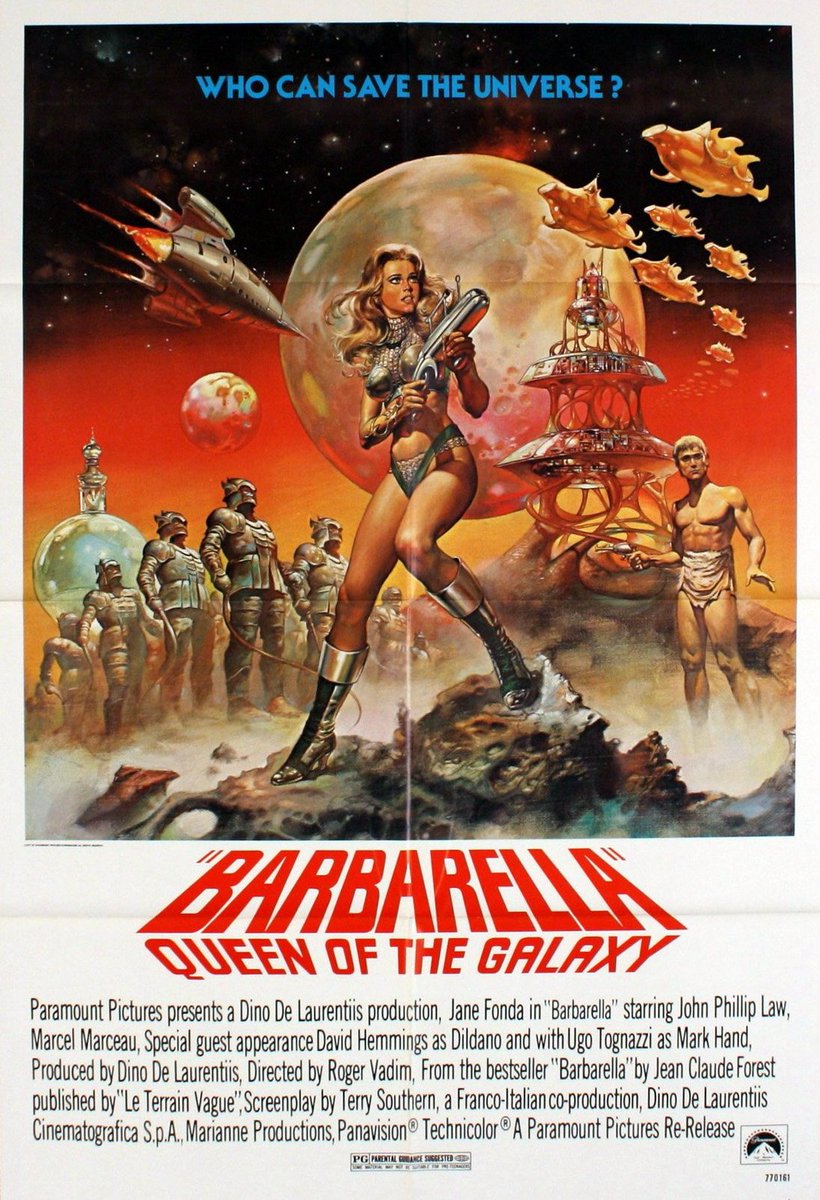 Barbarella was of course the inspiration for Tommy Barbarella's stage name; you also might remember it as the movie Prince and Troy Beyer were making out to in the theater scene from the 3 Chains o' Gold movie.
In fact, it's the very scene featured in 3 Chains… that later inspired "Endorphinmachine": i.e., the most famous scene in the movie, where Durand-Durand (Milo O'Shea) "tortures" Barbarella with an "Excessive Machine" meant to pleasure her to death.
O(+>'s Endorphinmachine isn't as sinister as all that, of course: in fact, he assures us, it "won't hurt a bit / Unless of course you don't believe in it."
As is often the case with the Artist, one gets the sense that he isn't just talking about sex: There's a decidedly religious undertone to that aforementioned line about belief, not to mention his assertion of "Your right to die and live again, live again, live again."
The Endorphinmachine, then, is a classic Prince construct: a metaphor for transcendence and transformation, both spiritual and sexual, that suggests there ultimately isn't much difference between the two.
But remember, this is still arena rock we're talking about, so the Endorphinmachine was also something much more literal: the elaborate stage setting used on The Ultimate Live Experience Tour in 1995.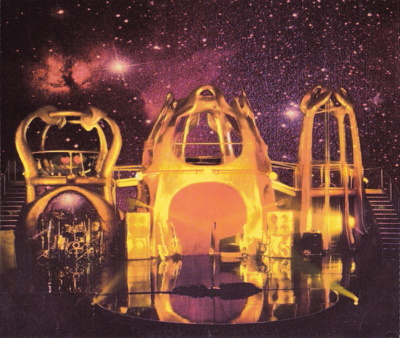 In keeping with the hard rock theme, that set has always reminded me of nothing so much as the alien pod props from This is Spinal Tap. Fortunately (at least to my knowledge), O(+> never got stuck in it.
Speaking of concerts, "Endorphinmachine" was mostly retired from O(+>'s setlists after 1996; but, like many of his harder-rocking tracks, it was later revived with 3rdeyegirl in the early 2010s.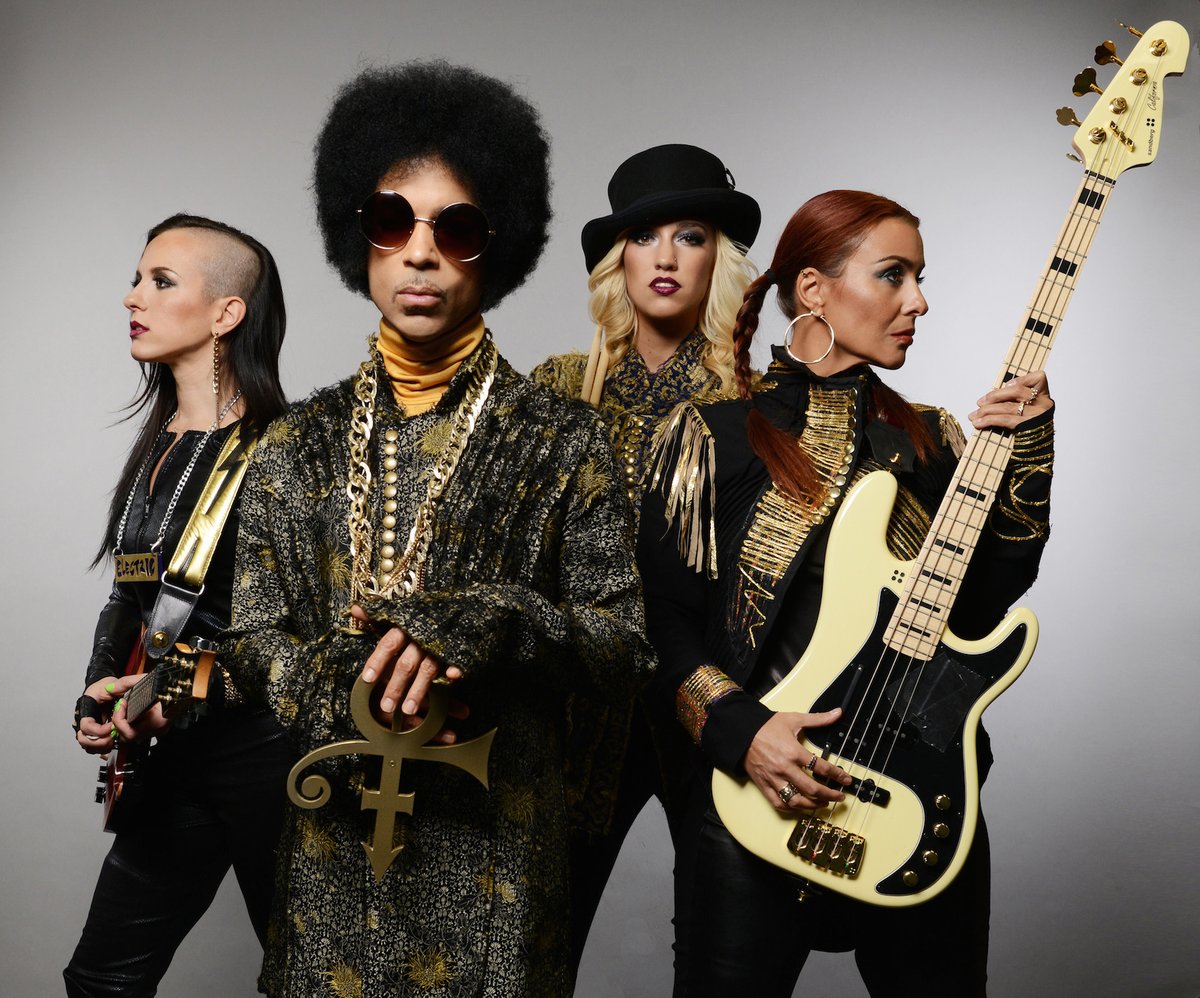 It thus feels appropriate to leave you with this rightfully celebrated version of the song from the guitar-heavy third show in Prince's 2013 stand at the Montreux Jazz Festival.
And, just for all those haters out there, Josh Welton's on cowbell.
Thanks to the @PrinceThread team (@deejayumb and @EdgarKruize) for once again letting me talk my shit. If you want (a lot) more from me on Prince, check out my song-by-song blog Dance / Music / Sex / Romance, which just marked its sixth (!) anniversary!
And if you want more from me on dumb hard rock, guess what motherfucker, I've got that too! My little sister (@nazzpuller) and I do a podcast where we talk about trashy (mostly) rock biographies; check us out at @headbangersbc.
This month, we happen to be doing something a little different and talking about Morris Day's 2019 memoir On Time. The first episode should be dropping in a week or so! It's probably the closest we'll ever come to doing a Prince book. Synergy!
https://bookshop.org/a/81557/9780306922213
But that's enough self-promotion. Thank you for reading, and tune in tomorrow for @IAmMissTLC on another of my favorite #TGE cuts, "Shhh!"
Originally tweeted by Dance / Music / Sex / Romance (@dmsrblog) on June 8, 2022.